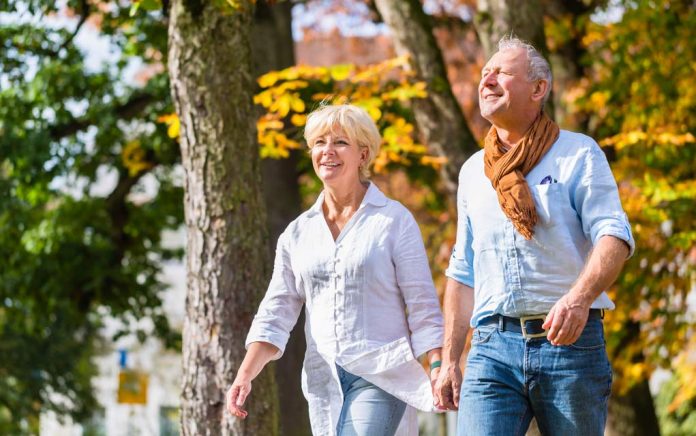 Thinking about adding more physical activity to your day? Walking can be a great way to get more active.
Try these tips to help make walking a part of your daily routine.
What are the benefits of walking?
Walking is the most popular physical activity among adults. Taking a walk is low cost and doesn't require any special clothes or equipment.
Walking may lower your risk of health problems like high blood pressure, heart disease, and diabetes.
strengthen your bones and muscles
help you burn more calories
lift your mood
How do I start?
1. Make a plan
The following questions may help you get started:
Where will you walk?
How often will you walk?
Who will walk with you?
How far or for how long will you walk?
2. Get ready
Make sure you have anything you may need. Here are some examples:
shoes with proper arch support, a firm heel, and thick flexible soles
clothes that keep you dry and comfortable
a hat or visor for the sun, sunscreen, and sunglasses
a hat and scarf to cover your head and ears when it's cold outside.
3. Go
Divide your walk into three parts:
Warm up by walking slowly.
Increase your speed to a brisk walk. This means walking fast enough to raise your heart rate while still being able to speak and breathe easily.
Cool down by slowing down your pace.
When walking, be sure to use proper form:
Keep your chin up and your shoulders slightly back.
Let the heel of your foot touch the ground first, and then roll your weight forward.
Walk with your toes pointed forward.
Swing your arms naturally.
4. Add more
As walking becomes easier, walk faster and go farther. Keep track of your progress with a walking journal or log. Record date, time, and distance. Set goals and reward yourself with a relaxing shower or 30 minutes of quiet time to yourself.
Clinical trials that are currently open and are recruiting can be viewed at www.ClinicalTrials.govExternal Link Disclaimer.
This content is provided as a service of the National Institute of Diabetes and Digestive and Kidney Diseases (NIDDK), part of the National Institutes of Health. The NIDDK translates and disseminates research findings through its clearinghouses and education programs to increase knowledge and understanding about health and disease among patients, health professionals, and the public. Content produced by the NIDDK is carefully reviewed by NIDDK scientists and other experts.